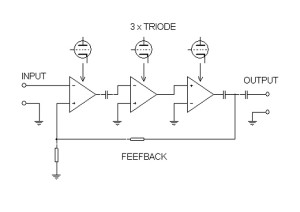 Block diagram of a conventional single-ended line amplifier by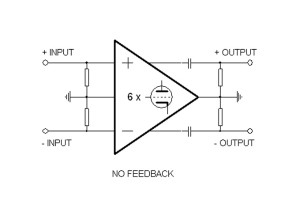 Features
Three sets of balanced inputs (also provide three sets of RCA inputs).
One set of balanced output (also provide one set of RCA output).
Patented design (WUBA – Wideband Unity Balanced Amplifier) improves low-level balanced signal integrity.
Use of wideband MOSFET current source to improve Common-Mode Rejection Ratio (CMRR).
No load resistors, no buffers and no followers.
No global negative feedback.
No semiconductor transistors, op-amps and transformers for signal amplification.
Wide bandwidth, 500kHz.
Dual mono channel design with premium dual mono power supply.
Premium grade R-core power transformer and shielding facility are used to reduce noise and electromagnetic interference.
Premium grade signal capacitors and resistors.
Modern chassis design improving looking and heat ventilation.
Soft-start circuit reduces the inrush current when switching on. It also ensures that in the first 30 seconds a reduced supply voltage is applied to vacuum tubes. This prolongs life of all rectifying diodes, power supply filtering capacitors and vacuum tubes.
Specifications
| | |
| --- | --- |
| CIRCUIT DESIGN: | Wideband Unity Balanced Amplifier (WUBA) |
| | |
| --- | --- |
| TOTAL HARMONIC DISTORTION: | < 0.05% (@ 2V/100k Ohm load) |
| | |
| --- | --- |
| MAXIMUM OUTPUT: | > 40V (@100k Ohm load) |
FREQUENCY RESPONSE:
+0, -3dB from 10Hz to 500kHz
(Measured when the volume control is bypassed)
INPUT IMPEDANCE:
> 47k Ohm (Single-ended input)
> 94k Ohm (Balanced input)
| | |
| --- | --- |
| OUTPUT IMPEDANCE: | 1.1k Ohm (Each phase) |
| | |
| --- | --- |
| S/N RATIO: | > 85dB (Balanced output) |
| | |
| --- | --- |
| DIMENSION: | H=150mm, W=445mm, D=395mm |
| | |
| --- | --- |
| NET WEIGHT: | 14 kg / 31 pound |